---
---
Bearings catalogue
Bearings catalogue company TOBEX Prague: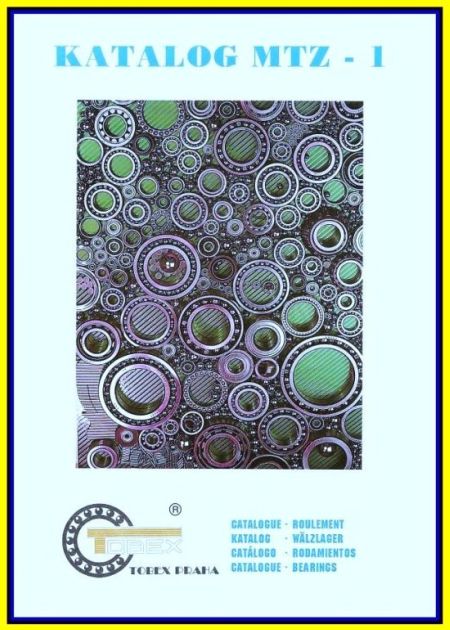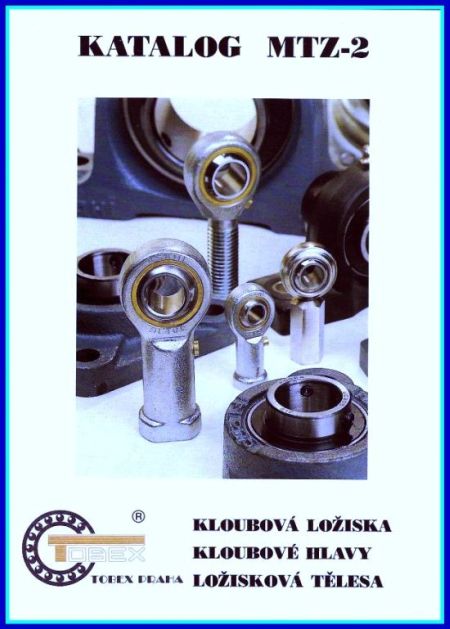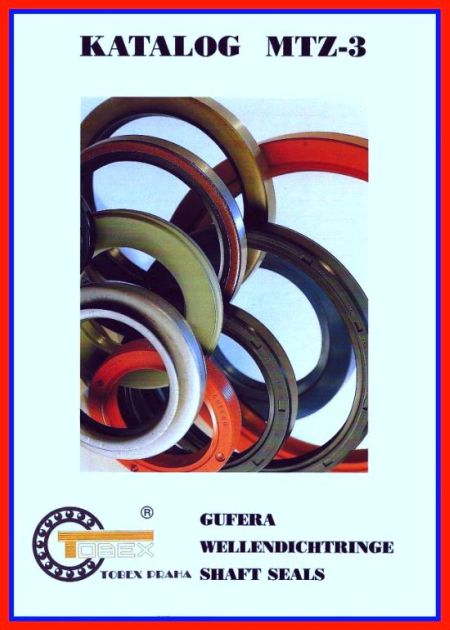 Spezialized publication issued by company TOBEX Prague
(registered by National library of Czech Republic and in the system ISBN)
BEARINGS CATALOGUE MTZ-1 (ISBN: 80-900329-0-7):
The company TOBEX Prague was the first one which strated to import comprehensive range of bearings made by Japanese manufacturers NACHI, NMB, EZO, IKO, ASAHI, NSK, NTN, KOYO, SMT and bearings SKF, FAG, INA, ELGES, TIMKEN, TORRINGTON, ROLLWAY etc. to Czech republic in 1993. Our steps were determined by high standard quality and favourable price of Japanese bearings. With regard to the fact that bearings´ manufacturers do not mark the same way, for example ball bearing 687 is identical to bearing SKF 618/7, bearing 6904 is identical to bearing SKF 61904, bearing 624-2RS is identical to bearing NMB R-1340 DD etc. based on that our company decided to publish first catalogue MTZ in 1996, which will allow you to identify precisely and quickly according to the parametres of bearings most of ball, cylindrical, spherical and tapered roller bearings without regarding the fact how they are marked by individual manufacturers.
Catalogue will help you to identify the manufacturer, e.g. bearing marked by letter Z = ZKL bearing, J = bearing Made in Japan and D = stands for other imported bearings. Catalogue is translated into French, German, Spanish and English languages.
Notes: MTZ = Material and technical supply
BEARINGS CATALOGUE MTZ-2 (ISBN: 80-900329-1-5):
Regarding the success of the first catalogue bearings, in 1997 there was published second bearings catalogue which comprises of special bearings which are not produced in inland, it includes:
Spherical Bearings GE, SRC, GLXS, JAS etc.
Rod Ends JAF, JAM, POS, PHS, GAKFR PB, SAKAC M, GIS, GAS, GAO, GIO, BEF, BEM etc.
Pillow Block Units UCP, UKP. UCF, UCFL, UCFC, UCIP, UCPA, BFL, BPF, BPFL, BLFL etc.
Take-up Units UCT, UKT, UCT+WB, UCC, UKC etc.
Hanger Units UCECH, H 30-UCHB
Silver series UP, UFL, MUP, MUFL
Plastic series TUCP, TUCF, TUCFL, TUCT
Ball Bearings for Units UC, UK, B, SB, SER, CS-2RS, UD+ER, UG+ER, KH+ER etc.
After being published, catalogue became a bestseller again, because in one publication apart from bearings made by Japanese companies ASAHI, NACHI, IKO, NSK, NTN, KOYO you will also find bearings made by other manufacturers as well- bearings FLURO, PAVARINI, TESCUBAL, DURBAL, JIB, FK, INA, ELGES, SKF, FAG etc. Regarding the fact that the same type of bearing is intentionally marked differently by individual manufacturers, second the most important section of that catalogue is "Comparison table" on the pages 127-128, where you find without any hesitation that for example spherical bearing GE 25 GS is identical to bearing INA GE 25 FO or bearing SKF GEH 25 ES, rod ends JAM 10 is identical to head bearings IKO POS 10 or bearings INA GAKFR 10 PB or bearings SKF SAKAC 10 M etc.
SEALS CATALOGUE MTZ-3 (ISBN: 80-900329-2-3):
This seals catalogue was published in 1998. The seals catalogue includes sealing rings of inland production and imported sealing rings.
There are listed standard sealing rings manufactured by companies KACO, CFW, GOETZE, ELRING, and STAEFA begining with dimensions 4x8x2 continuing to 270x300x15. The catalogue includes 100 pages of imported sealing rings and only 10 pages RUBENA seals of domestic production. In soite of that, it is not satisfactory as there is whole range of special, especially pressure sealing rings. The issue of sealing rings shall not be our primary concern in the future.
---
Nákupní košík
| | |
| --- | --- |
| Položek celkem: | 0 |
| Celková cena: | 0,00 Kč |
---